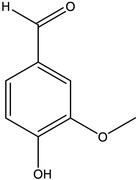 References
---
DMA Code
800300
CAS Number
121-33-5
FEMA Number
3107
EINECS Number
204-465-2
Characteristics
---
A phenolic aldehyde with the molecular formula C8H8O3, it is found in nature and has a sweet, creamy, vanilla-like odour.
Product Information
---
Category Aroma Chemicals
Regional Availability Worldwide
Harvest Period n/a
Natural Status EU Natural
Organoleptic Descriptors sweet, creamy, vanilla, chocolate
Common Applications caramel, chocolate, cream, vanilla
Appearance White to off-white crystals
Kosher yes
Halal yes
Chemical Properties
---
Assay min. 99%
Optical Rotation n/a
Refractive Index @20℃ n/a
Specific Gravity @20℃ n/a
Flash Point ℃ 93°C
Shelf Life (months) 12
Storage Recommendations Sealed containers in a cool dark place. Check quality before use.