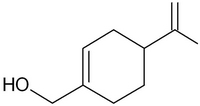 References
---
DMA Code
800053
CAS Number
536-59-4
FEMA Number
2664
EINECS Number
208-639-9
Characteristics
---
An alcohol with the molecular formula C10H16O, it is found in nature and has a green, linalool, terpineol, fatty-like odour.
Product Information
---
Category Aroma Chemicals
Regional Availability Worldwide
Harvest Period n/a
Natural Status Synthetic
Organoleptic Descriptors Fatty, green, linalool, terpineol
Common Applications bergamot, cranberry, vanilla, spearmint
Appearance Colourless to pale yellow liquid
Kosher yes
Halal yes
Chemical Properties
---
Assay min. 85%
Optical Rotation -110.0 to -80.0
Refractive Index @20℃ 1.4950 - 1.5050
Specific Gravity @20℃ 0.955 - 0.965
Flash Point ℃ 93°C
Shelf Life (months) 12
Storage Recommendations Sealed containers in a cool dark place. Check quality before use.