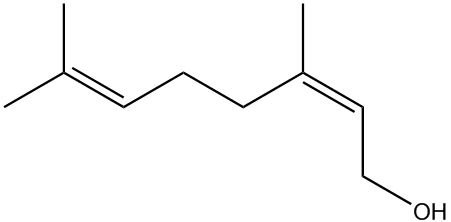 References
---
DMA Code
800948
CAS Number
106-25-2
FEMA Number
2770
EINECS Number
203-378-7
Characteristics
---
Nerolex is a high purity product carefully controlled to ensure consistent odour.  It is used extensively in sweet-floral perfume compositions such as jasmine, lilac, magnolia, mimosa, neroli and in citrus colognes.  It is also used in flavour compositions.  This product meets Food Chemical Codex (FCC) specifications.
Product Information
---
Category Aroma Chemicals
Regional Availability P.R. China
Harvest Period n/a
Natural Status Synthetic
Organoleptic Descriptors nerol
Common Applications jasmine
Appearance Clear and free liquid
Kosher no
Halal no
Chemical Properties
---
Assay min. 98%
Optical Rotation n/a
Refractive Index @20℃ 1.4730 - 1.4780
Specific Gravity @20℃ n/a
Flash Point ℃ 98°C
Shelf Life (months) 12
Storage Recommendations Sealed containers in a cool dark place. Check quality before use.