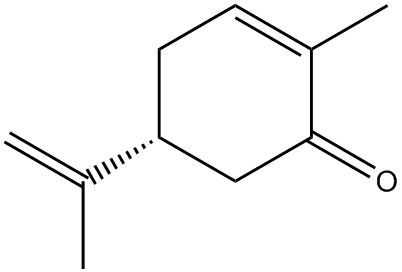 References
---
DMA Code
800931
CAS Number
6485-40-1
FEMA Number
2249
EINECS Number
229-352-5
Characteristics
---
L-Carvone is a perfume and flavour component with a refreshingly cool, minty odour and taste.  It finds extensive use in spearmint flavours but is also used in spice and floral fragrances.  This product meets Food Chemicals Codex (FCC) specifications.
Product Information
---
Category Aroma Chemicals
Regional Availability P.R. China
Harvest Period n/a
Natural Status Synthetic
Organoleptic Descriptors sweet, herbal, spearmint
Common Applications floral, spearmint, spice
Appearance Colourless to pale yellow liquid
Kosher no
Halal no
Chemical Properties
---
Assay n/a
Optical Rotation n/a
Refractive Index @20℃ n/a
Specific Gravity @20℃ n/a
Flash Point ℃ 94°C
Shelf Life (months) 12
Storage Recommendations Store in cool, dry place in tightly sealed containers, protected from heat and light.