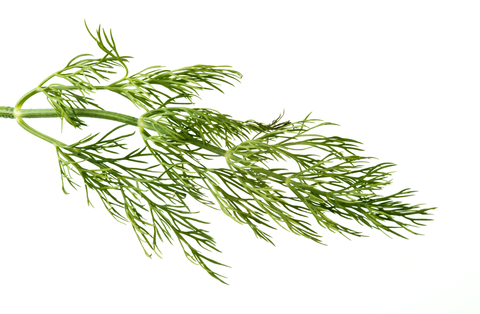 References
---
DMA Code
800322
CAS Number
90028-03-8
FEMA Number
2383
EINECS Number
289-790-8
Characteristics
---
Dill is an annual plant (or biennial) with umbels of yellow flowers and feathery leaves.  Dill seed oil is mainly distilled in Europe but dill weed (herb) oil is more often produced in the USA.  The carvone content is lower in the seed oil.
Product Information
---
Category Essential Oils and Extracts
Regional Availability Worldwide
Harvest Period Aug - Sept
Natural Status EU Natural
Organoleptic Descriptors sweet, fresh, green, herbal, minty, terpene, dill
Common Applications mint, spice, cucumber, caraway
Appearance Pale yellow to yellow liquid
Kosher yes
Halal yes
Chemical Properties
---
Assay 30-40% d'carvone
Optical Rotation +84.0 to +95.0
Refractive Index @20℃ 1.4800 - 1.4850
Specific Gravity @20℃ 0.887 - 0.903
Flash Point ℃ 49°C
Shelf Life (months) 12
Storage Recommendations Sealed containers in a cool dark place. Check quality before use.