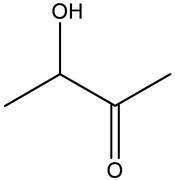 References
---
DMA Code
800002
CAS Number
513-86-0
FEMA Number
2008
EINECS Number
208-174-1
Characteristics
---
A ketone with the molecular formula C4H8O2, it is naturally found in many dairy products and has an odour reminiscent of butter.
Product Information
---
Category Aroma Chemicals
Regional Availability Worldwide
Harvest Period n/a
Natural Status Synthetic
Organoleptic Descriptors sweet, Fatty, buttery, creamy, dairy, milky
Common Applications apple, banana, butter, caramel, cheese, coconut, milk, strawberry
Appearance Colourless to pale yellow crystals and/or liquid
Kosher yes
Halal yes
Chemical Properties
---
Assay min. 96%
Optical Rotation n/a
Refractive Index @20℃ 1.4170 - 1.4220
Specific Gravity @20℃ 0.990 - 1.030
Flash Point ℃ 45°C
Shelf Life (months) 12
Storage Recommendations Crystalline acetoin is a dimer which interconverts with a liquid monomer. To keep in the solid form, store below 15°C. The quality should be checked before use.