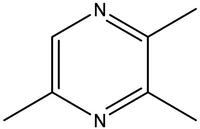 References
---
DMA Code
800223
CAS Number
14667-55-1
FEMA Number
3244
EINECS Number
238-712-0
Characteristics
---
A pyrazine with the molecular formula C7H10N2, it is found in nature and has a nutty, musty, earthy, roasted-like odour.
Product Information
---
Category Aroma Chemicals
Regional Availability Worldwide
Harvest Period n/a
Natural Status Synthetic
Organoleptic Descriptors earthy, musty, nutty, cocoa, powdery, roasted peanut
Common Applications caramel, chocolate, coffee, nut, corn, popcorn, potato
Appearance Colourless to pale yellow liquid
Kosher yes
Halal yes
Chemical Properties
---
Assay min 99%
Optical Rotation n/a
Refractive Index @20℃ 1.5030 to 1.5070
Specific Gravity @20℃ 0.973 - 0.983
Flash Point ℃ 54°C
Shelf Life (months) 12
Storage Recommendations Sealed containers in a cool dark place. Check quality before use.